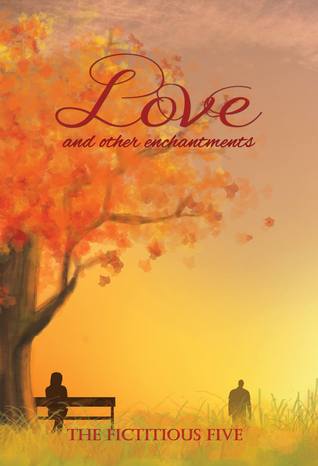 Short stories are magical. They take you on a walk through the liveliest of alleys, a few resplendent, while others torn between the subdued shades of white and black, to finally melt away, leaving your mind smeared with the most vibrant of hues, like a richly flavoured delicacy dissolving into the hidden recesses of one's senses, all in a matter of few minutes. The beauty is enhanced further if the theme reflected upon is love, for no feeling has conquered human minds like love in its multifarious forms.
Here we, a group of five writers, knit together by the bond of creativity and a passion for writing, present before you 'Love And Other Enchantments' a short story anthology, showcasing fifteen stories that depict, with much ardour, the depth and sheer poignancy of unrequited love.
BOOK REVIEW: -
I was given a complimentary copy of this book in exchange for an honest review.
Love and Other Enchantments is an anthology written by five authors:- Ishan Dafaria,Tanima Kedar, Maliny Mohan,Akash Deep Gupta and Anuj Kumar.
The sweet poems in the book were also beautifully written.
Its a blend of emotions, feelings, love,romance.All the story are engaging and will grab the attention of readers
Till Death Do Us Apart by Tanima Kedar :-
is an inspiring story, when you are about to give in to
the enclosing darkness and you see a ray of light, a faint trail of hope, finding in a brightly lit space.
Neha is the doctor. who is examining the case Patient 105, Mr.Prateek Arora met with an accident on 26th July 2013.
Together Forever by Tanima Kedar :-
is story of two naive souls, professing their love for each other, dreaming of eons together.
The Diary by Tanima Kedar :-
is story which revolves around Varun and Riya, Varun was an average looking guy, in his mid twenties, with average height and a lean body. This story made me cry, is a sad story . This world is full of people who will do anything to stop two lovers from uniting.Varun was an average looking guy, in his mid twenties, with average height and a lean body. Priya died because of Varun because she loved her and Varun betrayed her, he destroyed her.
Closure by Ishan Dafaria :- Love is the only necessity,
rest everything is optional.
Yet another love story when a boy falls in love with a girl, get rejected and see her with someone else... at least she should bid a goodbye... that would have been better... a closure would have been better...
Different Things by Ishan Dafaria :- is an emotional story of boy
He was a loner by nature, at least that's what people around him said... He seemed perfectly calm, normal and friendly, but he wasn't ever seen mingling with anyone or having even a simple unprofessional conversation.
People did try talking to him, he was polite... but he was also detached, and uninterested in everyone.
Love isn't complicated... Love is simple, love is pure... love is the most fascinating experience for a human soul.
I LIKED THIS STORY, THE AUTHOR HAS GONE INTO DEPTH OF MAKING THE READERS UNDERSTAND ABOUT LOVE.

Hatred, Crime and Love by Ishan Dafaria :- as it is clear from the title of the story, its all about love,hatred, and when jealousy comes in between the relationship it can take shape of crime.

The Poem by Akash Deep Gupta :-
Love is something that can start a battle as
well as end it,
what can be more powerful?
Charm of Those eyes by Akash Deep Gupta :- is beautifully written . The author grabs you right off the bat and keeps you tuning pages until you can't believe you've hit the end.The writing was really superb, it totally gets and holds your attention.
The Lake of Love by Akash Deep Gupta :- is the story of searching for love, dreaming and sadness,aloneness. I was surprised to first see a beautiful poem
'Why am I walking alone?
On this road,
Before, the approaching Christmas.'
At the Bus Stop by Maliny Mohan :- journey of love ,which claims your souls as much as it sets you free.
The Revival by Maliny Mohan :-
is the story of Abhay ,Priya Naina ,when Abhay's father was hospitalized & was in ICU. it is a story of stength, comeback.
A nugget, that life was indeed the best love story.It offered people smiles, made them cry, poured gallons of surprises.
He Loves Me Not by Maliny Mohan :-
is a sad ,emotional story,heartbreaker.The ending left me crying, full of tears.
So Mad In Love by Anuj Kumar :-
is story of Geeta, who is in a quest for the existence of Gods on Earth in today's time, the "Age of Downfall".She spend her whole life in the search for it.
It's Not Soothing Everytime by Anuj Kumar :-
ohhh myyy... i thought i am watching a movie.The story reminds me of Hindi film. How bad and cruel can your one sided lover be?
Known Unknown by Anuj Kumar :- Another love story of Amit and Araadhna, How can one wait for such long time in love. Childhood memories are most precious , innocent past of two little kids, and when one reminds of it, when they shared some cute moments

The best part of these stories are the sweet poems and the love quotes written in the beginning of the story, when the story starts. That is the main highlight, cream, cheery on the icecream.
I would certainly recommend it to people who enjoy reading short stories in this genre.Keeps you hooked from page one. This book is worth a read, then do grab a copy of this book now. I would rate this book 4.5 out of 5 stars.
ABOUT THE AUTHORS:-
Ishan Dafaria
, an engineering student at BITS Dubai is an avid reader and writer. An admirer of thrillers and conspiracies, his first book "A Dream", perfectly reflected his muse. He says that his stories are dedicated to all the lovers, to people who have fallen truly and hopelessly in love at some point in their life, but their love went unrequited. But that's the thing about true love, its selfless, its unconditional. It doesn't need to be reciprocated.
The irrepressible need to pen down her emotions and reach out to people that identify with the same, is what
Tanima Kedar
identifies with. A student of English at Amity University, she has tried at her hand at content writing, RJing and other such fields before diving into authorship. She believes that the world cannot be seen in black and white; but as a grey space where all emotions are melted into one, and this is precisely what is reflected in her works as well.
Maliny Mohan
is a doctor who has always been a dreamer at heart. An admirer of abstract art forms and an avid blogger, she maintains a blog ' Chasing Passions', from where sprouted her dream of becoming an author. Love and other enchantments is her first anthology, for which she has penned three stories . Her tales shadow the varied shades of life, lending them resplendent at times and poignant at others.
Akash Deep Gupta
who studies English at Delhi University has been published in three books before and has written dramas and short films. He believes, "Be it cowardice of youth or troubles in old age, be it war between nations or the agony of a ruined kingdom, love finds it path in every setting of life."
Anuj Kumar
is a Delhi based guy, a backbencher at college, he spent his days penning down his musings in the form of poems .After contributing ten poems to "Squire: Page a Day Poetry" and one in "The Significant Anthology" he contributed three stories to this anthology.