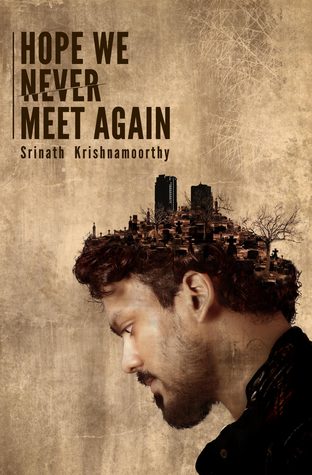 A girl gets divorced just before her wedding!
A widow seeks answers for the deaths of her husband and son.
A mysterious man follows a convicted rape victim.
A stranger scribbles a number in a train.
Two hearts part ways with a final wish: Hope we never meet again.
Then, there is a phone call...
Varun Diwakar is your average, happy-go-lucky young lad with many a dream that most middle class
youth harbour. But, he has a peculiar predicament. An accident changes his life forever and he discovers
that he can travel into the minds and dreams of people - and in that journey, he discovers many untold
stories, painful narratives and surprising twists. What triggers it all, is the death of a dear friend that
Varun decides to avenge. What happens in the end? How are all these stories connected? Does love
outlast death and time, the two great levellers, and become the greatest leveller, of all? Find out, as
bodies keep falling and many a lives are at stake!
BOOK REVIEW:-
I was hooked right from the beginning and found myself racing from page to page. I really was sucked right into the story.
There is so much suspense in the story that you will be holding your breath at times, at least I was. I am the kind of reader who loves to figure out the who's, why's and what's ahead of the story but that was a very difficult almost impossible task with this read which I loved.
This is adult psycho thriller sort of book.
The main story starts after the 2nd chapter, you will not able to guess the storyline ,if you read the first chapter of the book.
The story revolves around the protagonist Varun Diwakar and the people associated with him or his life directly or indirectly .
Varun
is an engineer by profession and starts working in an MNC ,where he meets
Sundar
( mid aged in his 40s ) ,
Ritu
- fair complexion and beautiful , Varun is attracted to her on the first look of her.
Neha
- team leader , loved just two things in her god damn life ;work and food.
Varun, the victim's best friend, decides to find the killer, the murder was avenged and during this journey ,there is transitions between his previous birth and his childhood, in his dreams he used to see many things.
"Life bounced between love and lust ,but then fused i between was a surreal betrayal."
Other characters in the book - Christy, kannan, Selvan,Vasu ,Kamala ,Palani.
The ending is great and full of suspense. In between between the author has added some adult scenes.
Very well written with excellent character development. I would rate this book 4 out of 5 stars.
Excerpt
"Dreams are to be lived, not chased."
"Sometimes you need to walk alone to be together with yourself…"
"Timeless love stories just have beginnings…"
"If you make your every today as safe as your yesterday's… your dream of a better tomorrow will always remain a dream."
"Well, history is more about heroes who rebelled and flourished than heroes who rebelled and perished. The ones that flourish became the songs and the ones that perished became the anthems. I strangely felt like a song that once craved to be an anthem."
ABOUT THE AUTHOR:-
Srinath Krishnamoorthy was born in Palakkad, Kerala. He holds a B. Tech degree from Government Engineering College, Palakkad and an M. Tech from MA College of Engineering, Kothamangalam. He is an avid reader, blogger and a traveler. This is his first novel and marks his transformation from a software engineer to a story engineer.
Facebook Link : https://www.facebook.com/hopewenevermeetagain
Author's blog : https://srinathkrishnamoorthy.wordpress.com/